I'm moving this blog over to
http://ejvc.wordpress.com
. Mostly because I like the admin interface and I think I'll be able to make it look nicer. All previous posts and comments (except the very most recent ones) have been migrated there (and, it was super-easy -- I just registered and then put in my LJ username and password, and they did the rest...)
See you over there!
Dear friends,


All I need to do now to officially claim my PhD is read through the document and find any stray typos, then have the whole thing printed and bound and give 2 copies (one hardback, one softback) to the research office. I'll also print two extra copies - one for me, one for my supervisor. This will be done sometime this week.

I am ultra tired - Dr Moreau took the little sweetie every night this week so I could work at night too. But I am proud of myself - it was a tough deadline and I made it.

I'll be updating my academic website soon with the revised work. If anyone wants the address, email or PM me, I prefer to keep it separate from my livejournal.

I am also sorry to report that the stress of finishing has led to an unusually large crop of sewing-related items from eBay. There are two vintage singer attachments and a vintage sewing book on their way to me! Reviews in due course.

And finally, I should have the day off BUT I actually at last have some paid work that starts today! Not Evil, I think, it's for a friend and should be fun.
I am very pleased to be able to report to you, friends, that I finished my revisions at 1:30 am last night and sent them in to my examiners for approval. This morning in my email I had it! Plus a compliment on one of the new sections!
In order to make the summer graduation date, I need to have my revisions handed in on Monday, so my examiners can approve them by Wednesday, and I can have the thesis bound and in by next Friday! I have completed 3 of the 5 tasks so only the two slightly more difficult ones left (lit review/new tech).


The 201 needs servicing, in my opinion it is not smooth like it should be (and like the 66 now is), and also I can't get the handwheel to release so I can't wind any bobbins. But I felt cheerful anyway and I experimented doing a "hemmed seam" -- you take two pieces of fabric, set one in 1/8" from the other, and narrow hem them together with the hemmer foot. In my vintage manual it says this is a replacement for a french seam, and I gotta tell you, it's really pretty great. I even did it with a cotton broadcloth, although I think cotton lawn would be the ideal material. I'm not sure about making a curved hemmed seam, but it was lovely on the straight and the seam is perfection.

The featherweight I set up with the tuck-marker that came with the 66, and made a series of 1/4" tucks 1/2" apart, and then sewed them down in crosswise directions to make a cool waved tuck pattern. The tucks were lovely, the stitches were great, the machine is fun and winds a mean bobbin. And it's SO clean inside. And quiet, now that I oiled it.

I enjoy sewing garments. But sometimes I just like messing around. You?
I've just spent a happy couple of hours tinkering with my machines. I have three vintage Singers: a 66, a 201, and a 221 featherweight. I bought the 66 first and it had some bobbin tension problems and I unscrewed the bobbin tension screw so much it fell out. It is EXTREMELY tiny. No, I didn't lose it, but I was unable to put it back in. This was more than a year ago. Today, filled with a renewed sense of optimism, I removed the whole bobbin race, cleaned out a bunch of junk (it could really use a VERY good cleaning) and screwed the little bobbin screw in. Also replaced the belt and bulb which had been cannibalised for the 201. Result, perfect stitching, the best of any of the machines. I love the foot pedal on this machine, which is from 1917 I think. it is shaped like a foot! Also the pretty thistle decals. And the tension doesn't have any numbers, who needs 'em. This is a charmingly old-fashioned machine. In fact it's so old that the electric motor which replaced its original hand-crank takes between 150-250V. Not 110-220V.


1) 2-3pp updating the literature review
2) move a section forward
3) delete the analysis chapter (this one was a surprise to me, but whatever) -- some of it to be moved to introduction, some to conclusions, some just removed
4) 2-3pp covering new new technology developments
5) 2 pp additional methodology section

So that's 6-8 new pages in a thesis 265 pages long, not a bad percentage rate :-). I have until July 13, but honestly this will only take a couple of weeks I think.
At last I've received comments back from my examiners officially! They are really minor, and can be summed up as follows:
I have a little niece, my brother-in-law's baby, little Maja! It is very nice to have another little one to sew for. And I am selfishly glad it is a little girl, I prefer sewing baby dresses! Plus I can pass along all Charlotte's nice handmade girly things that she has outgrown.
New Blog for Better Sewing
. Back in the mists of time, Gertie started this blog as a record of her progress sewing through Vogue's
New Book for Better Sewing
, published 1952. Apparently I was early enough on the blog that I was able to get a copy of the book for myself without paying a hugely inflated price. I have been thinking for a long time about doing a similar set of garments but with modern patterns.
Aside here: who am I kidding, I'm no Gertie. But I love collections, and I love taking courses, even if they are somewhat nebulous, virtual courses in which only I am enrolled. So don't expect the whole book, but do expect some VoNBBS-inspired clothes.
The first project is the Chemise Dress, which is two straight rectangles cinched (or not) with a belt. This style, I know from experience, looks terrible on me. My waist is my best figure feature and my bottom and top are quite different sizes. There's no way an unshaped garment flatters me. Lord knows I've tried. So, I pass over this dress. Projects Two and Three are the full skirt and the portrait blouse. I'd make the blouse in a heartbeat but have yet to find a really good modern pattern for it. The full skirt, who needs a pattern, but it's just not very exciting to make.
Which leads me to project Four, the "late day sheath dress". I shall now steal Gertie's picture of the dress:
VoNBBS suggests making this in satin, which Gertie duly did, creating a stunning red silk dress. I decided I would do the same, although my satin is polyester and is in something called a "wedgewood blue" -- a dark blue-grey colour which I believe will suit me perfectly.
I can't help but thinking that satin is NOT a fabric which should be used by a beginner. I recall, though, that one of the first dresses I made was a formal dress for my 10th grade homecoming in a black satin. I would have been, what, 14 or 15? and the dress was a wonderful success. So perhaps I am being too cautious now that I've grown old.
I did not buy the 1952 pattern used by VoNBBS. Instead I bought simplicity 2648, from their "Amazing Fit" collection, as I said a few days ago -- interestingly they also make it up in red. Just like the VoNBBS pattern, it has a sleeveless, unlined sheath with a waist seam.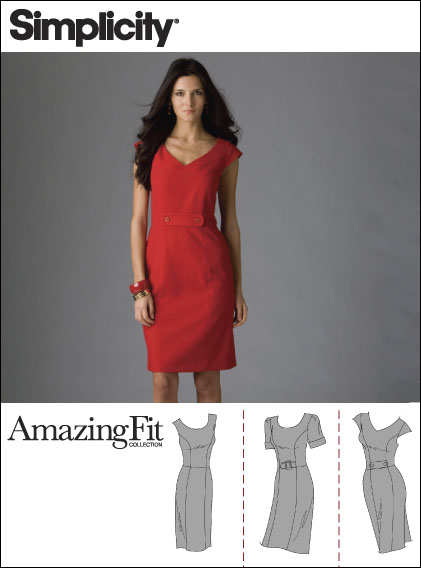 S2648 has scoop neck and v-neck options. Because I like a square neckline on me, I think I will draft a new square neckline and facing on to the pattern. The other major difference is that the 1952 pattern has darts, whereas this pattern has princess seams in the front. I like the princess seams so I'll leave them.
One thing I really like about this pattern is that simplicity gives you the desired ease for bust, waist, and hip - about 3 inches for bust and hip, about 2 inches for waist.
According to the
Vogue Ease Chart
, that would make this dress "fitted" rather than "close-fitting". Indeed, it hangs a bit on the model. I prefer a close-fitting top, so I decided to make the dress with 1 1/2" bust ease, using the size 14 with a B-cup pattern. The bottom skirt pieces helpfully come in slim, average, and curvy. Curvy has two waist darts. It's not curvy enough for me, but it's a start, and should be easy to modify.
I have already compared the bodice pieces to my sloper (god bless you, sloper) and apart from the normal shoulder squaring don't think I'll need to make any alterations.
Now I just need to find somewhere in London to make the belt.
Also in the queue are my jeans (done bar the hems) and a nice little spring top, which is already cut.
Some of you may know that I am a fan of Gertie's
Minor revisions. I get the report in the next couple of weeks then have 3 months to make the revisions. It was intense, but OK. They really liked it.
Somehow I haven't the patience to sew! Astonishing. But seriously, sewing for me takes full concentration, and of course there are always little errors you have to rip out and redo. And, the thought of ripping anything makes me a little kooky now.
I bought a couple of patterns from Sewing World, who were having a 50% off Simplicity sale. I decided I wanted a dress at some point and would like to have a good pattern. I am going to try out Simplicity's Amazing Fit pattern, S2610. These patterns have different cup sizes AND bottom pieces for "slim" "average" and "curvy;" and, helpfully, they print the finished pattern measurements. I have a piece of black (!) crepe that I think would be good for this, and after that a piece of purple crepe.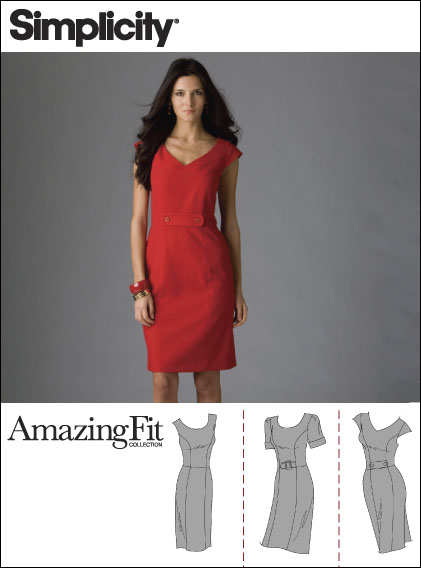 Then I also bought this Threads collection pattern, S2614. And what I didn't realise is that it ALSO has multiple cup sizes and finished measurements printed. I have some lovely fabric just waiting for this pattern (which was the inspiration for the ill-fated Sailor Smock) I've just checked the pattern against the PMB sloper, since my last Simplicity turned out super-big. Comparing against the back, I need to cut a size 10 at the shoulder and then move out to a size 14 at the sides. I also squared the shoulder 1 1/4 inches. I seriously have mutant shoulders. Or more likely they have mutant pattern designers, let's try to be positive here.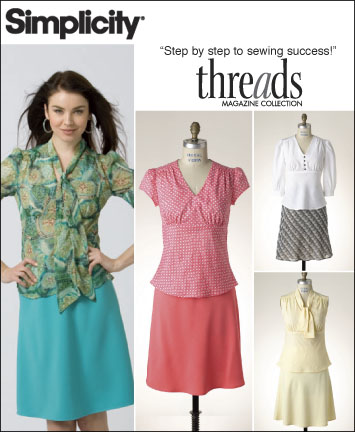 Enough of this nonsense, must go to a coffee shop now and stew some more.
By which I mean, sitting at home stewing and hoping. After the viva we will be going for ice cream (with Charlotte) and then out to dinner.
My sister's film, remember the one I begged you for money about, just won "Best Narrative Feature" at the South by Southwest festival in Austin. Will this be her big break? How exciting.